Image from Berdoll website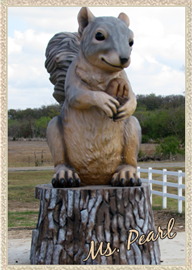 Image from Berdoll website
On Hwy 71 West between Houston and Austin Texas is the Berdoll Pecan Farm. Ms. Pearl the squirrel sits out front. We passed by Berdoll on our way to Austin this weekend and I saw a sign that made sure I'd get there before the weekend was over. It was a sign for candied jalapenos. The first time I had candied jalapenos was at my favorite restaurant in San Antonio,
Bohanan's.
(They serve them as an amuse with some softened cream cheese.)
I really just had to have some so we stopped in at Berdoll and took a walk around their retail store.
So much great stuff. Everything that you can do with a pecan plus some other local items including jerky, quail sausage, cake mixes, all kinds of things.
I ended up with a few more items in my basket than just the fabulous candied jalapenos. I also picked up some pralines, a bag of dark chocolate covered pecans and a snack mix of flavored pecans. Everything I tried has been great.
The haul from Berdoll's. I don't think the candied jalapenos will be around for long.




That's one of the best things about road trips, you never know what great finds you'll make along the way.
Berdoll is online and has a catalog as well. While I can I'll stop by their store front for a look see and some shopping. It's nice to know that when that's not possible I can go online or make a phone call and get just the thing I was craving delivered to my door.
Note: We were in Austin to eat BBQ at what have been called the top two BBQ places in the whole area. I'll be posting my thoughts about all of that and the fun time we had in Austin in the coming weeks.
Happy travels!